Museum of Welsh Life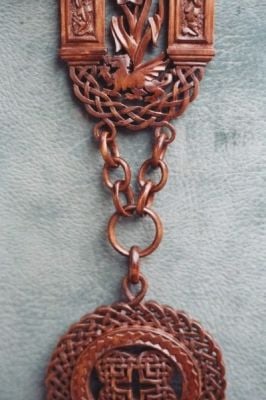 BBC NEWS January 25, 2009
Spoonful of Love on Saint's day
An intricately carved Lovespoon estimated to be worth over £1,000 has been donated to a history museum in Cardiff.
Sion Llewellyn carved the spoon for The Museum of Welsh Life, St Fagans, Cardiff to coincide with St Dwynwen's day, the Welsh patron Saint of lovers.
Mr Llewellyn, from Bridgend has been making spoons since he was twelve and exports them all around the world.
The Museum already has a collection off antique Lovespoons, some of which are on display.
Around Forty original buildings from across Wales have been removed brick by brick to be re-erected at the Museum which celebrated it's sixtieth Anniversary in 2008.
The re-erected buildings include farmhouses, a school, an iron mongers, a Chapel and a Working men's Institute.
The custom of carving and giving Welsh Lovespoons dates back to the 17th Century.
Originally they were made by young men as a token of their Love and affection for their girlfriends.
Carving
Mr Llewellyn said he started making them after his sister received one from her then boyfriend.
Using an old orange box and a penknife, he carved his first spoon and gave it to his mother.
I originally carved them as a hobby and then about ten years ago I was made redundant and decided to make them full time, he added.
"People from all around the world order them. I've carved lovespoons for people in Australia, the U.S., and Germany. I'm currently making one for a wedding in Australia of two ex pats".
The Lovespoon presented to the Museum reflects Mr Llewellyn's cabinet making background.
The top of the spoon is carved in the style of a Welsh dresser and there are a wide variety of symbols including Diamonds, to signify good fortune and wealth, Celtic Weave- eternal love and the Welsh Dragon, representing protection.